Venerable Thupten Rinpoche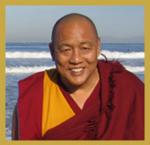 Venerable Thupten Rinpoche was born in 1958 and at age 11 became a monk at Ganden Jangtse Monastery. He took his full ordination (gelong) vows in 1977.
Growing up in the monastery in south India, Rinpoche received the traditional Tibetan monastic training in Buddhist philosophy, religious rituals and chanting. He received teachings, initiations and personal guidance in both sutra and tantra from many highly realized lamas including His Holiness, the Dalai Lama, Trijang Rinpoche, Ling Rinpoche and Zong Rinpoche.
After Thupten Rinpoche was awarded his Geshe degree in 1992 he began traveling outside of India giving teachings, attending conferences and performing rituals for the public to raise awareness about Tibet's religion and culture.
Also around that time he began devoting his attention to the issue of overcrowding at the monastery. His efforts culminated in the building of a spacious new prayer hall at Ganden Jangtse Monastery in south India, completed in 2001.
In 2007 Thupten Rinpoche started ground breaking on his temple building project in Himalayan north-east India named Thupsung Dhargye Ling. In April 2017 His Holiness, the Dalai Lama presided at the opening ceremonies of the temple. For more about Rinpoche's temple, school and medical clinic project in Dirang, India please visit www.thupsung-dhargye-ling.org.

Thupten Rinpoche undertook a 108 Nyung Na retreat in 2006 which lasted 7 months. Nyung Na is a rigorous practice associated with the deity Chenrezig, the Buddha of Compassion. It involves chanting, prayer, prostrations and fasting that intensify the opportunities for practitioners to deepen their progress on the spiritual path. Rinpoche has performed more than 250 Nyung Na's in his life so far, leading monks at the monastery and laypeople in the United States in this beneficial practice.

On June 3, 2019 Rinpoche began a 1008 Nyung Na retreat which will take approximately
5 1/2 years to complete.
Thupten Rinpoche has spent his life working tirelessly for sentient beings. May all his aspirations and holy wishes be fulfilled.


Geshe Lobsang Yarphel

Geshe Lobsang Yarphel was born in 1960 and became a monk at age 10. He later received his fully-ordained vows from His Holiness, the 14th Dalai Lama.
At Ganden Monastery Geshe Yarphel studied all the traditional monastic courses in Buddhist principles, logic, debate, moral codes and philosophical tenets. In 1992 he was awarded the Geshe Lharampa degree (equivalent to a PhD, of which Lharampa is the highest honors) and then went on to earn the Ngagrampa degree (Dr. of Tantra) from Gyuto Tantric College. Geshe la was elected as Chanting Master while at Ganden Shartse.

In 1989 Geshe Yarphel participated in a world tour with other Ganden monks to introduce Tibetan Buddhism to eleven western countries.
Geshe Yarphel has been an Associate Professor at Central University of Tibetan Studies in Varanasi, India.
Ani Tenzin Wangmo

Tenzin Wangmo is our resident nun, who comes to us from Jangchub Choeling Nunnery in south India. She took her ordination vows to enter into the Tibetan Buddhist clergy in 1999 and worked in the nunnery while also studying the most fundamental treatises of Buddhist philosophy, sutras and basic practices of monastic debate, memorization and moral codes of conduct.

At our center Ani Tenzin Wangmo leads prayer meetings, performs chanting rituals, meets with students and takes care of the altar room.